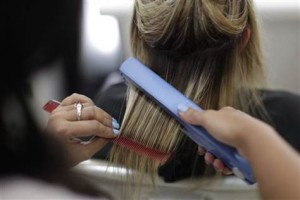 London, March 07 (ANI): A hair straightening treatment – dubbed the Brazilian blow-dry- has raised eyebrows as it is leaving women with deep disturbing side effects.
The Brazilian blow-dry, which is loved by celebrities such as Lindsay Lohan and Nicole Richie, leave the users with headaches, nausea, with stinging eyes and sore throats.
In the U.S., makers of the Brazilian Blowout – one of the most popular forms of the treatment – are currently facing a class action lawsuit from 200 people (and counting) who say the product has damaged their health.
The stylist who launched the action, Kimberley Ryley, said every one of her 225 clients reported some kind of symptom from headaches and eye irritation to dermatitis, allergic reactions, chest pain, asthma, insomnia and depression.
There are even fears that prolonged exposure could trigger cancer.
Better known as a key ingredient in embalming fluid, formaldehyde is also one of the main ingredients in many of these hair-straightening treatments.
According to EU rules, the level of formaldehyde in the hair solution must be less than 0.2percent to protect the health of both stylist and client. But in the U.S., where the straightening treatments have been popular for longer, some manufacturers have been caught using solutions containing up to 50 times the limit.
The explanation for this is the stronger the solution, the longer lasting and more effective the result.
Certainly countries such as Italy, Germany, France and Ireland have already banned products which contain more than 0.2?per cent.
The Brazilian blow-dry began, as the name implies, in Brazil about six years ago. Exactly how the straightening properties of formaldehyde were discovered are unclear, although its use in the textile industry to straighten wool may have sparked the idea.
First, the hair is washed with a special shampoo that opens up the hair cuticles in preparation for the straightening solution (in many cases, a formaldehyde mixture) which is applied next and combed through, then left on the hair for around 30 minutes. In the last stage, extra-hot straighteners are applied to "lock-in" the formula and set the blow-dry.
But the heating stage is where problems can arise. Combining heat and formaldehyde prevents hair from curling, creating a long-term straightening effect. But when the solution is heated, the formaldehyde emits a vapour which can bring with it an ugly tally of complaints.
There is additional concern that if formaldehyde comes into direct contact with the scalp it can penetrate the hair follicle and permanently damage the cells that produce hair growth. The result is that when hairs fall out, they are not replaced with new ones.
"Formaldehyde is actually quite a potent sensitiser, so you can quickly become allergic to it and it's certainly a nasty respiratory irritant. It is a genuine and significant risk to both consumer and hairdresser," the Daily Mail quoted the Cosmetics, Toiletries and Perfumery Association's director, Dr Chris Flower as saying.(ANI)