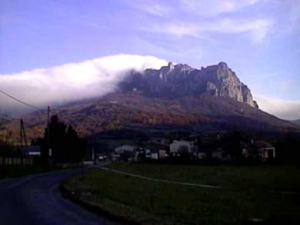 An estimated 20,000 New Age believers who say the "upside down" mountain is home to aliens who will rescue them from an impending apocalypse have saturated a small French commune near the foot of the picturesque Pic de Bugarach.
The Independent reports the growing flock, who locals refer to as "esoterics," believe the world will come to an end on December 21st, 2012. They also reportedly believe that the unique mountain is in fact home to a race of alien beings that will emerge to rescue the gathered humans and transport them to a new civilization.
Pic de Bugarach has long been famous because rock samples taken from its peak are actually older than points measured at lower elevation. Scientists say that is because when the 1,230 meter mountain erupted its peak flipped upside down before crashing back down upon the mountain's base. The mountain is said to have played a role in inspiring everything from Jules Verne's "Journey to the Center of the Earth," to Steven Spielberg's "Close Encounters of the Third Kind."
The BBC reports that the French government is concerned about mass suicides taking place near Pic de Bugarach in advance of the December 21 date and that there have been reports of "strange rituals" taking place there as well.
The Independent notes some other rumors surrounding Pic de Bugarach, which included speculation that both Israel's Mossad and Nazis have both performed "mysterious" excavation digs there. Up to 100,000 visitors are expected to flock to the scene before December 21.
Source: Yahoo News
Image: Weekly World News
Vacation at the best private beachfront East Bali Villa – Villa Pantai Bali.