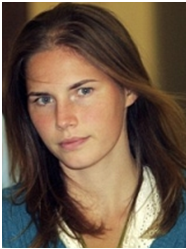 Amanda Knox and ex-boyfriend Raffaele Sollecito have been acquitted of the murder and rape of her roommate, Meredith Kercher in Perugia, Italy after an appeal on Monday. Knox collapsed after the verdict was read. She was free to return to the United States after spending almost 4 years in prison.
Both Knox and Sollecito were convicted in 2009 of murdering UK student Kercher, who was from south London, two years before that. Both defendants were cleared by the eight-member jury after issues were raised regarding the procedures used to gather DNA evidence.
The Kercher family expressed confusion at how the original verdict was so "radically turned." However, they added that they still trusted the Italian justice system and "hope the truth will eventually emerge."
Despite Knox's acquittal of all the other charges, the judge still upheld her conviction for slander after she implicated bar owner Patrick Diya Lumumba in the crime. This sentence was for three years, time already served by Knox.
Knox's family supported her all throughout the times she had "suffered for four years for a crime she did not commit." Her younger sister, Deanna, expressed her thanks to the court for the effort in searching for the truth and overturning the conviction. Meanwhile, her lawyer, Carlo Della Vedova, said there was "no winner" in the case and that the court had just "rectified a mistake."
Sollecito's father, Francesco, shared that he had "allowed himself some tears" after the verdict was read. "We will remember her with affection," he said of Kercher. "I would have liked to talk to her relatives as well, as they have lost a daughter in a very cruel way. But tonight, they have given me back my son."
Sollecito's lawyer, Giulia Bongiorno, said that he would want to focus on the positive results of the trial rather than dwell on "the four years of suffering that these two young people went through."
In the streets outside the court, hundreds of people gathered and mixed cheers and boos were being called out.
Earlier on, 24-year-old American girl from Seattle, who was serving 26 years jail time for the crime, was given a final chance for a personal statement. She told everyone in the courtroom that she was "paying with her life."
Speaking in fluent Italian, a tearful Knox said, "I did not kill. I did not rape. I did not steal. I was not there. I want to go back home. I want to go back to my life. I don't want to be punished. I don't want my life and my future to be taken away for something I didn't do because I am innocent."
Sollecito, who had received a 25-year term, said in his statement: "At the end of the day, every single day in prison is like death." The time before Kercher's murder had been a beautiful time for him, when he was about to defend his thesis and finish college, and he had just met Amanda.
Before the murder happened, Kercher had been sharing a cottage in Perugia with Knox during a study abroad from Leeds University when she was killed. According to the prosecutors, her murder was a result of a brutal sex game which went wrong. She had been found in the room half naked with a slit throat and was sexually assaulted and stabbed to death.
Prosecutors said they found Knox's DNA on the handle of a kitchen knife, which was found in Sollecito's flat. It was believed to be the murder weapon because Kercher's DNA was on the blade. They also maintained that the DNA found on Kercher's bra clasp belonged to Sollecito.
When an independent review was called, those findings were refuted based on poor procedures in evidence collection, forensic testing, and possible contamination. The DNA traces were collected from the crime scene 46 days after the murder occurred.
A 24-year old small-time drug dealer, Rudy Hermann Guede, had been convicted in a separate trial and was sentenced to 16 years in jail.