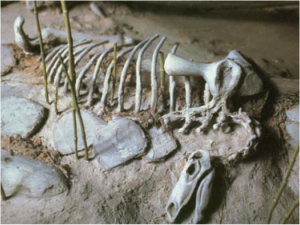 A massive extinction on the planet that occurred millions of years ago was once thought to have been caused by the destruction of massive volcanic eruptions. This was always regarded as the most likely cause for such a wide array of animal species to have suddenly died out. But now scientists are looking for another possibility for such as massive scale of extinction; a massive, deadly "earth burp".
Micha Ruhl and his fellow researchers from the Nordic Center for Earth Evolution at the University of Copenhagen in Denmark theorize that the mass extinction of over half of the Earth's fauna was caused by a giant release of carbon methane into earth's atmosphere. This massive methane burp led to a series of changes in the earth's environment, including an increase in atmospheric temperatures around the world.
With this increase in temperatures, ecosystems and organisms were simply not able to adapt to the hotter environment, leading to a mass extinction. This trail of extinct animals and ecosystems were then found millions of years later, where scientists thought that these organisms died out at the wake of deadly volcanic eruptions.
"We measured the isotopes of carbon in plants, from before the mass extinction event and then after the mass extinction. We found two different types of carbons and the molecules that were produced during that event," Micha Ruhl told the media. "So we started thinking of other sources of carbon that could have changed the atmosphere."
The original theory of volcanic eruptions was based on the study on atmospheric changes on carbon release during a period of massive volcanic eruptions. This surge is said to have happened because of the continental shift when the great Pangaea continent broke apart.  But Rhul discovered that the volcanic eruptions occurred 600,000 years before the end of the Triassic period, while the extinction occurred just 20,000 to 40,000 years before.
Extensive research and precise calculations by Rhul's team revealed the earth burp released over 12,000 gigatons of methane into the atmosphere during the latter part of the Triassic era. According to Rhul, the methane was stored in the sea floor, caught by some kind of ice structure. Once the temperature of the earth crossed a certain threshold, the ice had melted and released the methane into the atmosphere.
Although this holds no significance to most people today, Rhul warns that looking back at the history of the earth might show us a pattern of what could occur again in the future. In today's environment, with the earth's temperatures are rising again due to global warming, there could be a time when we cross the threshold again and release another massive earth burp.