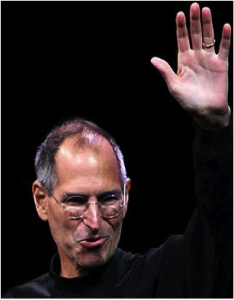 Technology giant Apple Inc.'s co-founder Steve Jobs finally succumbed to a rare form of pancreatic cancer that was diagnosed in 2003. He died on Wednesday in Palo Alto, California at the age of 56 — just one day after Apple unveiled its latest iPhone model.
According to the family of Steve Jobs, he died "peacefully" surrounded by his family. He left behind his wife Laurene, their son Reed Paul and their daughters Erin Sienna and Eve, and a daughter from a previous relationship, Lisa Brennan-Jobs. In a statement, his family shared that he was a visionary in public, but a family man in private. They gave their thanks to the people who had been with them during Steve's illness. They will provide a website for those who want to share their tributes to him. However, they are also asking for privacy during their mourning period.
"The world rarely sees someone who has the profound impact Steve has had, the effects of which will be felt for many generations to come," said Microsoft Corp. co-founder Bill Gates, whom Jobs had been often compared. "For those of us lucky enough to get to work with him, it's been an insanely great honor. I will miss Steve immensely."
The master innovator had been battling the disease for a decade and had stepped down as Apple's CEO on August 24 this year following a medical leave of absence in January, handing the reins to his long-time assistant Tim Cook.
Steve Jobs had suffered from pancreatic neuroendocrine cancer, a rare form of pancreatic cancer that produces neuroendocrine tumors. This disease has an average survival rate of 3 to 2 years. Jobs had a liver transplant in 2009 and took an extended leave from Apple last January. Before he even retired as Apple's CEO, his public appearances showed Jobs with significant weight loss already.
Jobs had said before that he wanted to make "a dent in the universe" and used technological innovations to improve human life. His legacy in Apple includes the Apple II, Macintosh, iMac, iPod, iPhone and iPad. He was also chief executive at Pixar, the digital animation company that gave the world Cars, The Incredibles and Toy Story, before it was bought by Disney in 2006.
A Buddhist, an adopted son, and a college dropout, Jobs co-founded Apple Computer with his friend Steve Wozniak in his parents' Silicon Valley garage in 1976. This company introduced the Apple 1 and Apple II, and made Jobs a multimillionaire in 1980. After the successes of the Macintosh computer, Jobs was "fired" from his own company in 1985 due to strained relationship with top management and the board. From there, Apple went down. Jobs founded NeXT, a computer company which Apple bought in 1997. This event brought him back into the game and he had managed to revolutionize computer animation with Pixar. In 2007, the advent of the iPhone carved his name in the modern technology history.
"His ability to always come around and figure out where that next bet should be has been phenomenal," said Bill Gates in 2007.
Six years ago, Jobs had talked about mortality as his motivation for his vision. He said in 2005: "Remembering that I'll be dead soon is the most important tool I've ever encountered to help me make the big choices in life… Because almost everything — all external expectations, all pride, all fear of embarrassment or failure — these things just fall away in the face of death, leaving only what is truly important."
Apple pays tribute to its former chief in their website with this statement: "Steve Jobs 1955-2011. Apple has lost a visionary and a creative genius, and the world has lost an amazing human being. Those of us who have been fortunate enough to know and work with Steve have lost a dear friend and an inspiring mentor. Steve leaves behind a company that only he could have built, and his spirit will forever be the foundation of Apple."