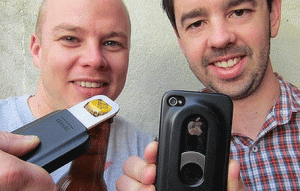 Two young Australian entrepeneurs have designed an innovative Apple iPhone 4 gadget cover for bottled beer lovers.
Melbourne-based duo Chris Peteres and Rob Ward's gadget with the quirky name of  "Opena" is a case for the iPhone 4, with a slide-out bottle opener makes it simple for any man to remove bottle caps from their favourite beer.
The pair designed the iPhone "Opena" case to make their mobile phone even more useful! But they had a problem, they didn't have the funding to make the gadget a reality. Well their solution was to apply to Kickstarter, a crowd-funding website that is open to anyone to contribute (in cash) for an idea or a special project.
Due to Kickstarter the pairs iPhone "Opena" case will soon become a commercial reality after the pair received more than enough money to create it.
In the past Kickstarter site has funded other projects including one that turned an iPod nano into a watch. That project raised almost $1 million from just over 13,000 people supporting it.
The Melbourne pair's iPhone "Opena" case was listed with Kickstarter on June 8 last month with a modest target of $15,000, which they had hoped to reach within a month. They exceeded their target with just one day to go until their initial funding was over, the pair have raised more than required for the "Opena's" first production run, with over $19,000 raised from over 400 backers.
The duo say their "Opena" case won't scratch the iPhone and that after rigorous testing it  won't cause liquid to damage the phone from shaking up beer bottles. The first shipment of "Opena's" is set for August 2011 with an initial price tag of $39.95. The 100 customers who order via Kickstarter will be able to get it for a discounted price of only $15.00.  Other backers after the first 100 are sold will then be able to get it for only $30.00.
The duo do appear to have some credentials for designs of this nature with Peteres, 32, being an industrial designer by trade at CP Design, while Ward, 30, is an ex toolmaker and who now works in sales and marketing. These two guy maybe on their way to booming career in product design and manufacture.