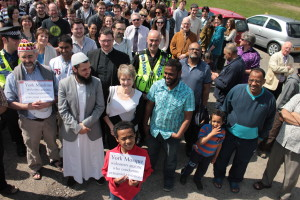 A mosque has been praised for serving tea and biscuits to English Defence League supporters after the far-right group arranged a demonstration there.
'Compassionate people'
About six people turned up to protest at the mosque in Bull Lane, York, on Sunday and were invited inside to play football with worshippers. More than 100 supporters of the mosque had gone there after learning of the planned EDL protest.
Father Tim Jones, who went to the Bull Lane mosque, which is situated in his parish, said: "I've always known they were intelligent and compassionate people and I think this has demonstrated the extent to which they are people of courage – certainly physical courage and also a high degree of moral courage… I think the world can learn from what happened outside that ramshackle little mosque on Sunday."



'Really beautiful thing'
Imam Abid Salik said: "We did have a few people who did come to protest but when they came some of the members of the mosque went over and they engaged in a conversation… Some people went over with cups of tea and biscuits, they were talking for about 30 or 40 minutes and then they came inside, which was a really, really beautiful thing."
Does the action of the York Mosque worshippers also draw an approval from you? Feel free to share your thoughts and opinions with us!
Source: BBC News
Image: Nouse