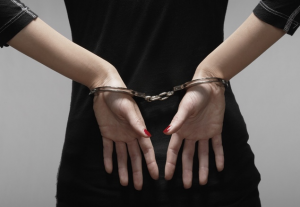 How did breast cancer survivor Lisa Lindsay end up behind bars? She didn't pay a medical bill — one the Herrin, Ill., teaching assistant was told she didn't owe.
"She got a $280 medical bill in error and was told she didn't have to pay it," The Associated Press reports. "But the bill was turned over to a collection agency, and eventually state troopers showed up at her home and took her to jail in handcuffs."
Although the U.S. abolished debtors' prisons in the 1830s, more than a third of U.S. states allow the police to haul people in who don't pay all manner of debts, from bills for health care services to credit card and auto loans. Under the law, debtors aren't arrested for nonpayment, but rather for failing to respond to court hearings, pay legal fines, or otherwise showing "contempt of court" in connection with a creditor lawsuit.
According to the ACLU: "The sad truth is that debtors' prisons are flourishing today, more than two decades after the Supreme Court prohibited imprisoning those who are too poor to pay their legal debts. In this era of shrinking budgets, state and local governments have turned aggressively to using the threat and reality of imprisonment to squeeze revenue out of the poorest defendants who appear in their courts."
Such practices, heightened in recent years by the effects of the recession, amount to criminalizing poverty, say critics in urging federal authorities to intervene. "More people are unemployed, more people are struggling financially, and more creditors are trying to get their debt paid," Madigan told the AP.
Do you think debtors' prisons should be abolished for good? Share your opinions with us!
Source: Yahoo News
Image: NY Daily News