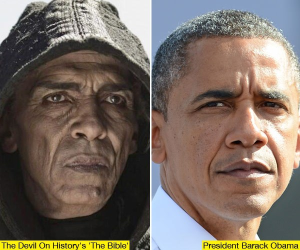 The actor who plays the devil on the History channel's "The Bible" bears more than a passing resemblance to President Obama, a fact that hasn't gone unnoticed on social media. So, was it intentional?
'Utter nonsense'
Responding to the speculation, the History released a statement saying, "History channel has the highest respect for President Obama. The series was produced with an international and diverse cast of respected actors. It's unfortunate that anyone made this false connection. History's 'The Bible' is meant to enlighten people on its rich stories and deep history."

Executive Producers, Mark Burnett and Roma Downey called the connection "utter nonsense." And Downey said, "Both Mark and I have nothing but respect and love for our President, who is a fellow Christian. False statements such as these are just designed as a foolish distraction to try and discredit the beauty of the story of 'The Bible.'"
'Brewing controversy'
False or not, people are tweeting about the brewing controversy. Conservative pundit Glenn Beck, who has called "The Bible" one of the most important shows of the decade, was among the first to point out the similarities between the actor and the president.
The actor's name is Mohamen Mehdi Ouazanni. According to his IMDb page, he has appeared in several religion-focused television-movies, including a 2006 adaptation of "The Ten Commandments" and a 2000 film called "In the Beginning."
From your point of view, does The Bible's devil really look like President Obama? And despite History Channel's statement, do you think it was intentional or not?
Source: Mike Krumboltz, Yahoo TV
Image: Hollywood Life