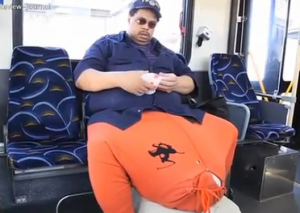 Wesley Warren, 49, spent more than four years with this extra burden before having surgery to repair the damage from a rare medical condition called scrotal lymphedema. When doctors placed the swollen mass they had cut from Warren's scrotum on the scale, it weighed 132 pounds.
'3 pounds per month'
It began in 2008, Warren told TLC, when he awoke to a shooting pain in his testicles. The tissue around his penis soon began to swell, eventually growing at an estimated rate of 3 pounds per month.
After Warren appeared on the Howard Stern radio show, appealing for help, a fellow scrotal lymphedema sufferer referred him to Dr. Joel Gelman, who offered to do the surgery for free. Gelman, director of the Center for Reconstructive Urology at the University of California, Irvine, specializes in urethral and penile reconstruction surgery.
'Massive enlargement'
Scrotal lymphedema, also known as scrotal elephantiasis, is a "massive enlargement" of the scrotum due to thickening of tissue and accumulation of fluid, Gelman said.
The most obvious symptom is a large scrotum; this can range in size from a grapefruit to a basketball. But the mass doesn't "max out" at any particular size, Gelman said. It will keep growing until the patient seeks treatment. Warren's scrotum was the largest Gelman had ever seen.
Warren is walking again and enjoying life, Gelman said. He'll need a follow-up surgery to remove some additional skin that was damaged by his condition.
Do you know someone who suffers from the same condition? Feel free to share your thoughts with us regarding this medical condition.
Source: CNN Staff | CNN
Image: Bang Style