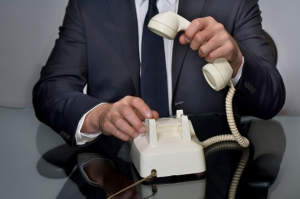 A man targeted by marketing companies is making money from cold calls with his own premium-rate phone number.
'Getting annoyed with PPI phone calls'
In November 2011 Lee Beaumont paid £10 plus VAT to set up his personal 0871 line – so to call him now costs 10p, from which he receives 7p. The Leeds businessman told BBC Radio 4's You and Yours programme that the premium line had so far made £300.
Mr Beaumont came up with the plan when he grew sick of calls offering to help him reclaim payment protection insurance (PPI), or install solar panels. Once he had set up the 0871 line, every time a bank, gas or electricity supplier asked him for his details online, he submitted it as his contact number. He added he was "very honest" and the companies did ask why he had a premium number.
He told the programme he replied: "Because I'm getting annoyed with PPI phone calls when I'm trying to watch Coronation Street so I'd rather make 10p a minute."
'Think twice'
He said almost all of the companies he dealt with were happy to use it and if they refused he asked them to email. The number of calls received by Mr Beaumont has fallen from between 20 and 30 a month to just 13 last month. Because he works from home, Mr Beaumont has been able to increase his revenue by keeping cold callers talking – asking for more details about their services.
But the premium number regulator Phone Pay Plus says the public should think twice before setting up their own lines. They say phone line providers must meet consumer protection standards, which include transparency, fairness and complaint handling, which would mean clearly setting out the cost of each call to any organisation that rang.
Do you dislike getting cold calls from marketing companies? Would you do the same thing that Lee Beaumont did?
Source: Joe Kent | BBC News
Image: Mirror