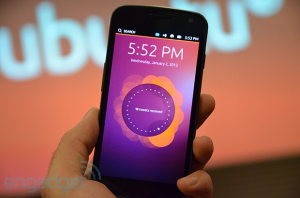 The Ubuntu operating system has been adapted to run on smartphones. The Linux-based software will allow users to run desktop apps on their handsets, allowing them to double for PCs when docked to monitors. The code will initially be released as a file which can be installed on Samsung's Galaxy Nexus phone, replacing Android.
'First time in history'
Some analysts question whether consumers really want the power of a fully fledged computer on their phone. Even so, Ubuntu's founder, Mark Shuttleworth, said he was in talks with manufacturers for devices to be sold with the system pre-installed within the year. While he acknowledged the innovation would likely be limited to "enthusiasts and hobbyists" at first, he said it signalled a wider shift on the horizon.
"It's quite incredible that we're at this point when the power of the phone is crossing over that with baseline processing power of basic laptops," Mr Shuttleworth told the BBC. "We're taking advantage of that so for the first time in history you have the full consumer PC platform available on a phone."
'
Phones running the software will be showcased at the Consumer Electronics Show (CES) in Las Vegas next week.
Ubuntu is the most popular operating system to be based on the Linux kernel – the code that lets software and hardware work together. The London-based firm behind it, Canonical, offers it for download free of charge and has been helped by thousands of volunteers who contribute to the open source project. The firm makes money back by offering support and training and also plans to take a share of sales from online marketplaces offered by handset makers who adopt its software. It estimates that more than 20 million PCs already use it.
Are you thrilled about the Ubuntu platform for smartphones? Will this be the next big thing in mobile technology?
Source: Leo Kelion, BBC News
Image: Engadget