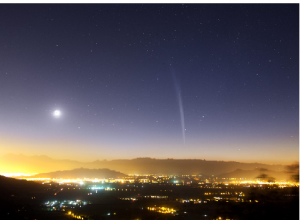 The comet Lovejoy may not be the famed Star of Bethlehem, but it still provided a jaw-dropping sight for astronomer Gabriel Brammer, photographed the comet rising ahead of the sun on Dec. 22 at Paranal Observatory in Chile's high Atacama Desert.
Brammer is a support astronomer for the European Southern Observatory (ESO), which runs the Paranal facility. His time-lapse photos of comet Lovejoy show it rising ahead of the sun as the Paranal astronomers fire a laser beam, which serves as a guide star, into the sky. Our Milky Way galaxy and the moon are also visible in the images.
Comet Lovejoy was discovered on Nov. 27 by Australian amateur astronomer Terry Lovejoy and quickly identified as a so-called Kreutz comet, a comet which flies on an orbit that swings extremely close to the sun. The comet was about 660 feet (200 meters) wide when it was first seen.
On Wednesday (Dec. 21), NASA astronaut Daniel Burbank was amazed to see the comet rising over a nighttime Earth from his vantage point on the International Space Station as it sailed 240 miles above Tasmania. Burbank, who currently commands the space station, snapped about 100 photos of the cosmic sight, which NASA later assembled into a time-lapse video of comet Lovejoy.
Comet Lovejoy is now headed away from the sun as it travels along its highly eccentric orbit, ESO officials said. It may return to Earth's night sky in the year 2325, when its orbit brings it back into the inner solar system, they added.
Source: Yahoo! News
Image: Political Hotwire