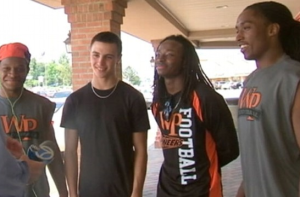 Four football players from William Paterson University went shopping at a general store in Wayne, N.J., on Sunday afternoon. After spending several minutes trying to locate the store clerk, two of the players who needed sunglasses and batteries were captured on store security cameras leaving money at the register.
'Who does that?'
Buddy's Small Lots store manager, Marci Lederman, was taken by their honesty.
"They picked up a few items, and they left cash on the counter and waved to the cameras," Lederman told Yahoo News. "Who does that?"
Thomas James, Kell'E Gallimore, Jelani Bruce and Anthony Biondi do that. As it turns out, the players had unknowingly entered a closed store. Lederman said a lock on the front door had malfunctioned and a half-lit store made it look like Buddy's was open. Police phoned her to say an alarm had been tripped, but she found nothing amiss.
'Good example'
Lederman was so impressed that she called a local TV station to share the surveillance video, which helped her identify the four young men. On Tuesday, she rewarded each of them with $50 shopping sprees.
"For me it's the total product," Coach Flora said. "I'm looking for guys that will come in, be here for four years, learn, develop, graduate, become good alums, give back to the university, give back to the program and along the way hopefully have some fun and set a good example."
How many people you know are capable of that level of honesty? Feel free to share your thoughts regarding this rare good news from the sports world!
Source: Jason Sickles | Yahoo! News
Image: ABC News