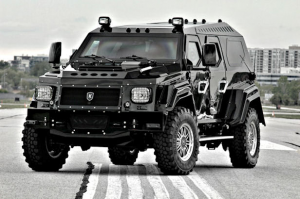 What better armored vehicle there is to use than Conquest Vehicles's Knight XV, a massive SUV designed to stop bullets while looking like it can stop a cruise missile. But Conquest Vehicles now introduces a new, light-grade XV lookalike that isn't armored.
The Toronto-based company is calling its more-vulnerable new model the Evade, which seems apt given that is exactly what buyers will have to do when the bullets start flying. Like the XV, the Evade is based on a Ford F-550 Super Duty commercial truck chassis and wears brutally styled bodywork. Typically, consumer-grade armored cars hide their armor and blend in, but not the Dartz-like Knight XV—and so it goes for the Evade, minus the armor, of course.
Conquest Vehicles colorfully describes the Evade's new body panels as "massive," but apparently they're "significantly" less so than the 13,000-pound Knight XV's beefed-up fare. The panels are rendered using an aluminum/mild-steel blend, but this dose of superleggera engineering is offset by the truck's steering wheel, hinges, and running boards, all of which are machined from solid blocks of stainless steel.
An interior chock-full of luxurious doo-dads and high-tech security features also doesn't alleviate the pain felt by the pavement beneath the Evade's tires. Standard equipment includes four-wheel drive, FLIR front and rear night-vision cameras, joystick-operated exterior searchlights that offer 360 degrees of lighting coverage, leather and Alcantara interior furnishings, and a "commercial-grade" air suspension.
The interior is set up with a 2+2 rear-seating configuration with two pairs of chairs facing each other, limousine-style, and buyers can add retractable flat-screen monitors, a partition between the rear quarters and the front cabin, and power rear seats. Like the XV, the Evade can be had with one of two Ford engines, one gas and one diesel.
We understand that not every buyer in the market for a commercial-truck-based land crusher needs armor or blast-resistant tires, but lose the armor and the Knight XV–derived appeal seems lost.
Do you agree that Conquest Vehicles' armorless Evade seems unappealing? Or do you still like it despite its lack of protection?
Image: Vida Con Estilo