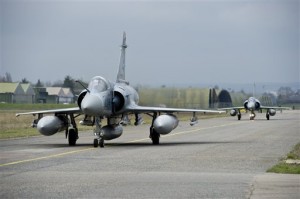 In a bold declaration, the Allied forces of the United States, France, Britain and several other European countries launched attacks against the military forces of Muammar Kaddafi today. A senior official of the French government had stated that Mirage and Rafale jet fighters have already been deployed and could bomb several locations in Libya, including locations in Tripoli and Benghazi that are controlled by Kaddafi.
On Saturday, the conflict between the Kaddafi forces and the Allied countries escalated when Kaddafi sent troops through Benghazi despite declarations of a cease-fire from the international community. This insurgence could complicate matters for bombers and jet fighters as it mixes both the allied forces and the Kaddafi's troops in one location. Allied forces are worried that they might hit 'friendly' target when they are ordered to attack Kaddafi's forces.
On the same day, the United States, France, Britain and 19 other countries held an emergency summit in Paris. In the meeting, they had agreed to put in place necessary means to make Kaddafi respect the UN's Security Council resolution demanding a cease fire in the area. Necessary means had included the use of military force by the allied countries. The resolution was announced by French President Nicolas Sarkozy, one of the leaders in the Allied front.
"In accord with our partners, our air forces will oppose any aggression by Col. Kaddafi's airplanes against the population of Benghazi. Already, our planes are preventing air attacks against the city. Already, other French planes are ready to intervene against tanks that would threaten unarmed civilians," said Sarkozy in a statement.
The allied forces had previously warned Kaddafi and his regime that they would resort to military force should Kaddafi break the cease-fire resolution given by the U.N. After the incursion in Benghazi, military buildup had increased in the region. Six Danish F-16 fighters landed on a US airbase in Sicily, American F-18s and Canadian CF-18 Hornets were also deployed in the area. Italy has also offered the use of their 7 air and navy bases in the region.
Britain, France and the United States were among the most formidable backers of a resolution passed by the U.N. declaring a cease-fire and a no fly-zone over Libya. Also present in Saturday's summit were Arab League Secretary-General Amr Moussa, Qatar's emir Sheikh Hamad Bin Khalifa Al Thani, foreign ministers of Jordan, Moroccan and the United Arab Emirates, and the United States' own representative, Secretary of State Hilary Clinton.