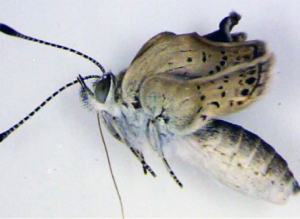 Scientists found an increase in leg, antennae and wing shape mutations among butterflies collected following the 2011 Fukushima accident. The work has been published in the journal Scientific Reports.
Two months after the Fukushima Daiichi nuclear power plant accident in March 2011, a team of Japanese researchers collected 144 adult pale grass blue (Zizeeria maha) butterflies from 10 locations in Japan, including the Fukushima area. When the accident occurred, the adult butterflies would have been overwintering as larvae. By comparing mutations found on the butterflies collected from the different sites, the team found that areas with greater amounts of radiation in the environment were home to butterflies with much smaller wings and irregularly developed eyes.
Together with his team, Prof Joji Otaki from the University of the Ryukyus, Okinawa, then bred these butterflies within labs 1,750km (1,090 miles) away from the accident, where artificial radiation could hardly be detected. It was by breeding these butterflies that they began noticing a suite of abnormalities that hadn't been seen in the previous generation – that collected from Fukushima – such as malformed antennae, which the insects use to explore their environment and seek out mates.
The team concluded that this higher rate of mutation came from eating contaminated food, but also from mutations of the parents' genetic material that was passed on to the next generation, even though these mutations were not evident in the previous generations' adult butterflies. The findings from their new research show that the radionuclides released from the accident were still affecting the development of the animals, even after the residual radiation in the environment had decayed.
"This study is important and overwhelming in its implications for both the human and biological communities living in Fukushima," explained University of South Carolina biologist Tim Mousseau, who studies the impacts of radiation on animals and plants in Chernobyl and Fukushima, but was not involved in this research.
Do you think mutation poses as an impending threat to humans exposed to radiation in Fukushima? What action should be taken to determine and curb its health risks to both humans and environment?
Source: BBC News
Image: Inhabitat