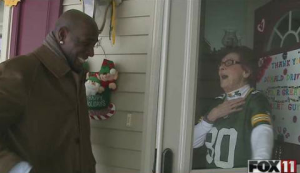 Donald Driver retired last month after 14 years as a Green Bay Packer, and because he didn't dance or win a Super Bowl on his way out, he didn't receive a tenth of the attention of fellow retiree Ray Lewis. But he had a similarly outsize impact on his community.
'Decorated her house'
Driver is leaving Green Bay — sorry, folks, but it's cold there — to return to his home state of Texas, but before he did, he stopped by the home of 78-year-old fan Angie LeRoy. She'd decorated her house to honor Driver's retirement, and who should show up at her doorstep but Driver himself?
'Personal thank-you'
Turns out Driver had seen a previous story on LeRoy, a cancer survivor, and decided she deserved a visit and a personal thank-you (as well as a hug). This story shows just how much some fans really do care for their teams … and how much happiness a player can bring to those fans. Snark all you want, but the look on Angie LeRoy's face when she sees her hero on her doorstep is just perfect.
Were you touched by Donald Driver's sweet surprise for his longtime fan? Who is your favorite player? Tell us about other heroic or generous acts of your local heroes!
Source: Jay Busbee, Yahoo Sports
Image: Total Packers