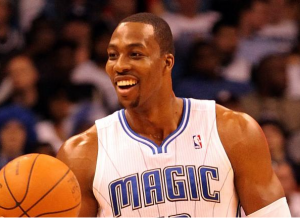 The Los Angeles Lakers are finalizing a blockbuster four-team trade to acquire Dwight Howard from the Orlando Magic, league sources told Yahoo! Sports.
The Lakers will send All-Star center Andrew Bynum to the Philadelphia 76ers, who also will receive shooting guard Jason Richardson from the Orlando Magic. The Sixers will send guard Andre Iguodala to the Denver Nuggets. The Magic will receive Arron Afflalo, Al Harrington, Nikola Vucevic, rookie swingman Moe Harkless and three first-round draft picks. Orlando is also expected to receive second-round picks in the deal. In addition to Howard, the Lakers will also receive Earl Clark and Chris Duhon from the Magic.
Lakers forward Pau Gasol had been in previous scenarios of the trade, but his representatives have since been assured he's no longer in the deal, league sources told Y! Sports.
Orlando, Los Angeles and Philadelphia had discussed a three-way deal, but needed a fourth team to take Iguodala and also provide Orlando with the necessary future draft picks, sources said. Denver joined the talks in the past week, sources said.
Howard's contract ends after this season. He isn't expected to immediately sign an extension with the Lakers because he can get a longer deal in free agency.
How will this four-team trade affect the runs of the next NBA games? Will you be rooting for Dwight Howard if and when he makes it to the Lakers? Shout out your expectations in the comment box below!
Source: Yahoo News