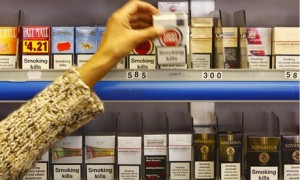 In supermarkets and store counters all over the world, the one common display that you cannot miss are the rows and stacks of cigarettes that are for sale. Its basic business to place products that sell, in full sight of the customers, and that's the way it has always been done. But earlier today, the British government announced that it will no longer permit the display of cigarettes and other tobacco products in such stores.
The ban requires all establishments that sell such products to keep them away from public view. Although the new law will not ban the sale and advertising of cigarettes, the hope is that it will make it difficult for smokers and tobaccos users to get their product. The move will also make it difficult for recent quitters to be tempted into buying cigarettes as well as discourage new smokers from trying to smoke.
"We cannot ignore the targeting of young people through these displays," said Sally Davies, England's chief medical officer in a statement. She added the can't-miss-it advertising also encourages teenagers and new smokers "to start smoking at an age when they are less able to make an informed choice." A major part of cigarette business includes the marketing and advertising of products in places such as stores and supermarkets.
This will not be the first time this law has been passed down in the continent and even in the world. The law had been previously introduced by countries such as Iceland, Ireland and Canada. After England's ban, several other countries are looking to follow suit. Norway has already passed a similar ban on the sale of cigarettes and Finland is also planning to introduce a ban on over the counter advertising in the next year.
Cigarette packs in England have already been slowed down by laws that require them to have government warnings and discouraging pictures such as corpses and tumors and lungs with cancer. There is also another law that may be passed that would require tobacco makers to create generic packs that would prohibit any logos on the cigarette packs themselves.
The English display ban on cigarettes received the expected reactions from all fronts. Health experts applauded and praised the ban while retailers and tobacco manufacturers complained and protested. Aside from actual tobacco products like cigarettes, the ban also includes hiding imitation cigarette products such as chocolate cigarettes and licorice smoking pipes.