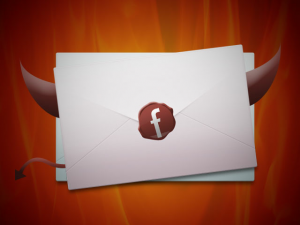 Facebook algorithms decide to hide messages that the site doesn't believe is important. The fact that you're not using that Facebook email address appears to have led to Facebook trying to figure out new ways to push you to the system.
So, they've taken action by forcibly changing your contact email address listed on your Facebook page from your actual address that you regularly check to [your.name.here]@facebook.com — or worse, [random number]@facebook.com.
There's nothing opt-in about this change, and there was no notification about it either: Facebook just decided to swap out emails to try to get people to use their cobwebbed email system.
Thankfully, you take a few simple steps to restore your old, non-Facebook email address. Start by visiting your profile page and clicking on "About" to bring up, amongst other things, your contact info. Click the edit button on the "Contact Info" section, which should bring up a list of all the email addresses Facebook has on file for you, including your new facebook-domained email address. Left click on the open circle to the right of your.name.here@facebook.com and choose the "Hidden from Timeline" closed circle. Then pick which email address you'd prefer folks to contact you at, and change that closed "Hidden from Timeline" circle to an open "Shown on Timeline" circle. Simple as that!
Have you been "victimized" by Facebook's unprecedented email switch? Tell us what you think of this email swap!
Image: Life Hacker