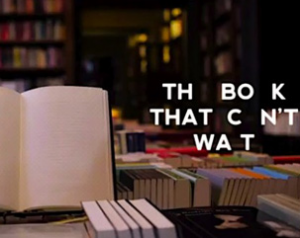 Buenos Aires-based bookshop and publisher Eterna Cadencia has released El Libro que No Puede Esperar – which translates as 'The Book that Cannot Wait' – an anthology of new fiction from Latin American authors printed in ink that disappears after two months of opening the book.
Silk-screened using a special pink ink, the book comes sealed in air-tight packaging that, once opened, allows the printed material to react with the atmosphere. The result is that after two months, the text vanishes. The more the text is exposed to light the faster it disappears, so unread pages may retain the text as long as the reader doesn't skip ahead in the book. The ink is made from a "secret" formula that is highly reactive with sunlight and air.
As the authors inside are all previously unpublished, the concept, developed with help from ad agency Draftfcb, acts as a way to ensure that readers engage with as much of the material as possible while they have the chance. The sense of urgency was important for the publishers to encourage readers to give new authors a chance and force them to digest the content quickly.
The book has proven popular with Argentinian customers, with the first printed batch selling out on the first day it was put on sale. There is no word from the publishers on what they propose readers should do with the book once the text has vanished — however, leatherbound and with thick pages, it could easily be re-used as a high quality journal, for example.
Would you read a book that "cannot wait"? Do you think this book with disappearing ink will find a successful market among today's book lovers?
Image: Opinionless