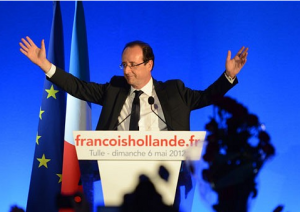 Francois Hollande defeated French President Nicolas Sarkozy in a presidential runoff Sunday, signaling a shift to the left as the country and Europe fight to dig out of a weak economy.
The president-elect, who will be the nation's first left-wing president since Francois Mitterrand left office in 1995, suggested there was a sense of relief in many European countries because of his win. Later, Hollande went to Paris, where he addressed a large crowd at the Bastille. Supporters waved flags and shouted his name. Hollande congratulated Sarkozy, who earlier conceded to Hollande as results from exit polls and official tallies in the runoff election came in.
With almost all of the votes counted, Hollande was leading with 51.6% to Sarkozy's 48.4%, the nation's Interior Ministry said. Voter turnout was reported at more than 80%. Exit polls said Hollande won 51.9% of the vote, France 2 television reported.
Sarkozy's defeat marks the latest — and most significant — of at least half a dozen European leaders swept from office during the eurozone economic crisis, including the Greek and Italian prime ministers.
France's vote came the same day as the Greek parliamentary election. Exit polls in that country indicated Greece's ruling coalition appeared headed for steep losses, while parties on the far left and far right were poised to make significant gains amid anger over austerity measures. Sarkozy has been president since 2007.
Do you think Hollande would be a better leader than Sarkozy? Tell us your opinions below!
Source: CNN
Image: The Telegraph