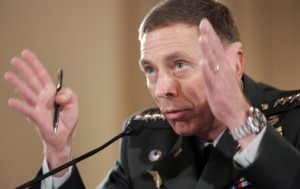 Earlier today, while under questioning from North Carolina Rep. Walter Jones, Army general David Petraeus revealed that he had no wish in prolonging the US troops in Afghanistan because he has a big stake in the occupation. His own son is in the army and is serving with the troops in the country. When the congressman asked the general if the troops would still be in Afghanistan after 2014, the general answered with his revelation:
"I may not be at this table, probably won't be, in 2015, but I'll tell you that my son is in uniform, and Lieutenant Petraeus just completed a tour in Afghanistan, which thankfully we were able to keep very quiet, and left in November after serving as an infantry platoon leader," said the senior Petraeus, "We're very proud of what he did. He thinks he was doing something very important," he added.
Petraeus confessed that he understood the American people's impatience about getting American troops out of Afghanistan. He stated several instances wherein he encountered political leaders and members of the military who were eager to get the troops out. He often responded that he shared their beliefs but that the exit had to be done correctly and properly.
The long 10-year war between the United States and Afghanistan had claimed over 2,300 coalition soldiers as well as countless members of insurgence and even some civilians. Most of the American public had been behind the invasion of Afghanistan in retaliation to the September 11, 2001 attacks in America. Although the responsible party, the Al-Qaeda, had been removed from the country, there are still some issues being dealt with in the country.
Recently, Petraeus was seen apologizing on behalf of NATO for an air assault that killed 9 civilians, some of them children. According to the Associated Press, Petraeus' son, Army 2nd Lt. Stephen Petraeus served in Afghanistan as a member of Alpha Company, 3rd Platoon, 1st Battalion, 503rd Infantry, and 173rd Airborne Brigade Combat Team.
Petraeus isn't the only political figure to have a child serve in recent American wars. Sen. John McCain's sons Jack and Jimmy both served their country. The elder Jack graduated from the naval academy in 2009 while Jimmy joined the US Marine Corps and had a tour of duty in Iraq in 2008. Vice President Joe Biden's son, Beau Biden, is a captain in the Delaware Army National Guard and was deployed to Iraq for over a year.