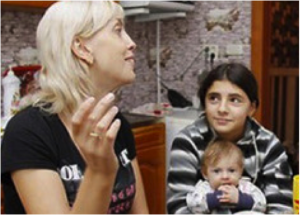 After 12 years of living with their parents, a pair of Russian girls discovered that they have been accidentally switched at birth. However, even after meeting their real mothers, the two girls still chose to stay with the parents who raised them rather than with their biological parents.
The two girls from the town of Kopeisk in the Ural Mountains of eastern Russia lived just a few miles from each other. They were born in 1999 just 15 minutes apart in the same maternity ward. It was only 12 years after that their mothers discovered that their babies were negligently given the wrong name tags.
The big secret was discovered in the middle of a divorce procedure. Yuliya Belyaeva, one of the mothers, divorced her husband earlier this year. The ex-husband of Yuliya refused to pay alimony and denied paternity of his supposed daughter, Irina, because she didn't look like him. The issue was taken to court and DNA tests were then conducted. The results shocked everybody, including the judge, who had never seen a situation like this before. It turned out that neither Belyaeva nor her ex-husband was Irina's biological parent.
"The judge couldn't believe it," Belyaeva told the BBC. "She said she'd only seen cases like this on TV and didn't know what to advise us."
Following the DNA tests, Belyaeva embarked on a search for her real daughter. She recalled another woman who gave birth in the same ward as her. She thought the hospital staff had switched their daughters.
"I made a photocopy of the DNA test results and went straight to the prosecutor's office. There, I lodged an official complaint about being given the wrong baby in the maternity hospital," Belyaeva said. The local police helped her locate her biological daughter who was living just a few miles away from them.
"It was true," Yuliya testified. "Their daughter, Anya, was blond and looked just like me and my ex-husband. And our daughter was dark-skinned and had dark hair and looked like the other father. He's a Tajik, and she looked just like him." Finally, there came a real explanation why neither daughter resembled her own parents her entire life.
Yuliya said that the whole experience and the new revelation turned her world "upside down and inside out." The two daughters were glad to meet each other. However, they still wanted to stay with the family they grew up with.
"It's terrible for both of them," Yuliya said of the matter. "They've grown up with one set of parents. Now, they've found out they have a different mother and father. Neither child wants to leave their home. Irina keeps saying to me, 'Mum, please don't give me away!' I comfort her by saying, 'I would never do anything against your wishes. Nothing has changed. I'm still your mother.'"
The two families are now getting to know each other and spending time together. Both families are giving their daughters a chance to occasionally visit their biological parents in spite of the culture differences. Irina was brought up as a Russian Orthodox and Anya as Muslim.
The adjustment is quite tough on both families, but they are struggling to keep up with it. Still, all four parents are suing the local maternity hospital in question for inadvertently giving them the wrong babies. They are demanding almost $160,000 in damages.