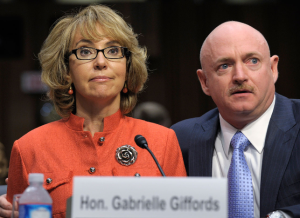 A Tucson gun store owner has decided to rescind the sale of a military-style rifle to Mark Kelly, the husband of former U.S. Rep. Gabrielle Giffords, after Kelly said he had intended the purchase to make a political point about how easy it is to obtain the kind of firearms he's lobbying Congress to ban.
'Terminate the transaction'
But Kelly couldn't immediately take possession of the rifle because the shop had bought it from a customer. As a result, the store is required by a Tucson ordinance to hold the gun for 20 days to give the city enough time to make sure the weapon wasn't used in a crime.
Store owner Doug MacKinlay said Monday in a Facebook post of his own that he "determined that was in my company's best interest to terminate this transaction prior to his returning to my store."
'Accusations of hypocrisy'
"While I support and respect Mark Kelly's 2nd Amendment rights to purchase, possess, and use firearms in a safe and responsible manner, his recent statements to the media made it clear that his intent in purchasing the Sig Sauer M400 5.56mm rifle from us was for reasons other then for his personal use," MacKinlay said in the statement.
Kelly's purchase of the guns sparked accusations of hypocrisy from gun-rights supporters, with many on Facebook focusing on his motivations and the rules for purchasing such guns. Kelly, a former astronaut, said he intended to eventually hand in the rifle to Tucson police but planned to keep the handgun.
Do you think Mark Kelly's reason for purchasing the rifle was justified? Or does the store owner score more brownie points for cancelling the purchase? Tell us your opinion regarding gun control laws!
Source: Fox News
Image: AZ Capitol Times