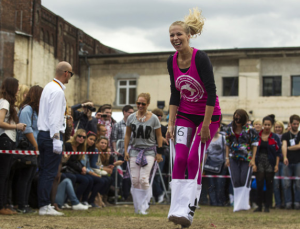 The London 2012 Olympics will begin later this week. But the Hipster Olympics have already made history. The second annual games were held in Berlin on July 21 to determine just who was cool enough (and who didn't really care enough) to be crowned the city's biggest hipster.
Like the Olympics, competitors of the games participated in sporting events. Unlike the actual Olympics, these games did not require muscle, years of preparation, or even much sweat. There was the skinny-jeans tug of war, the horn-rimmed glasses throw, and the confetti toss.
Other events included a cloth-tote sack race (no hipster would be caught without one), a bubble tea drinking event (that involved sucking candies through the thick straws), record spinning, and a make-your-own ironic hipster mustache competition.
If you're thinking, this wouldn't be out of place in Brooklyn, home of the original tote-bag carrying, ironic facial-hair sporting specimen, you would be right: The Hipster Olympics are also held in Brooklyn and London.
Team Jam FM took home the Golden Club Mate trophy. We're guessing celebrations began immediately.
Do you think the Hipster Olympics events are fun and cool? Would you dare to participate in a bubble tea drinking event or cloth-tote sack race? Share your thoughts and opinions with us through the comment box below!
Image: RT