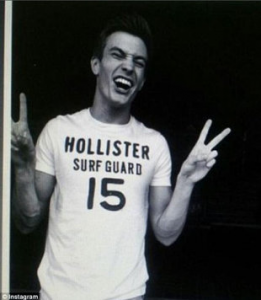 Surf-prepster brand Hollister's dude posse of shirtless "lifeguard" models got into trouble for racist photos and actions at a recent store-opening in Yeouido, South Korea.
One all-American-appearing brand ambassador in a "Hollister Surf Guard" t-shirt posed making fake "slanty-eyes" in front of local tourist attraction, Royal Gueongbokkung Palace and posted the photo on his personal Twitter account. When a follower commented 'please look at how many Asians liked that picture… Impressive', the model from the photo wrote, with a fake "Asian" accent, 'Hahahaha they ruhhvvvv ittt!'.


In another, separate incident, reported on by the U.K. paper The Daily Mail, a model posing with locals during the store opening was covertly giving the middle finger to the camera. 

Both incidents were originally reported on Sept 7th by English-language Korean blog KoreaBang. Koreans aware of the incident, the paper said, were offended. "I've got to go and return the clothes that I bought," KoreaBang reported one local saying.
The Hollister tradition of flying in for store openings what KoreaBang described as "robust foreign men dressed like lifeguards, wearing nothing on their chests but whistles" also stirred up some local racism and sexism, as comments on the blog indicated. The presumably male commenters objected to the Korean women who would enjoy posing and having their photo taken with the Hollister models and made slurs against both Korean girls and whites in general.


Hollister told Yahoo! Shine that the models responsible have been fired, and provided a company statement that reads: "On behalf of our more than 80,000 associates around the world who cherish our core values and our culture of diversity and inclusion, we sincerely apologize for the offense caused by these unauthorized, ill-considered actions."
Did the Hollister models deserved to be fired right away for posting racist photos? Tell us about other famous brands that flirted with racist slurs!
Source: Yahoo News
Image: Riehl World View