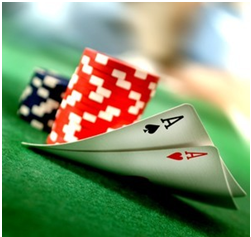 Online poker has been partly responsible for a dramatic increase in the number of poker players nationwide. Its revenues grew from $82.7 million in 2001 to $2.4 billion in 2005.
Once you have learned the rules of poker and have played for money or low limit real money, or you may be holding your own or losing a little. Regardless of that, I am sure you would want to improve your play and become a regular winner. This article will give you a few useful tips on how to be a regular winning poker player.
First of all, nothing beats the combination of good experience and honest analysis of your game. Ask yourself how could you have dealt differently to win more money or lose less? Which of your opponents are playing worthless hands? Always review and analyze your play while playing as much as you can.
Buy a few high quality poker books and really study the valuable information being offered. Read them over and over again so that you can gradually pick up strategies and concepts that you may have missed previously.
Poker playing software gives a level of play equivalent to an above average skilled player. This will allow you to practice more on your own with a much more realistic experience.
Lastly, if you want to be a winning poker player, you will have to integrate record keeping in your poker plays. Without this, you will just lose money indefinitely because you just keep on guessing how well you are playing. Records will give you the information that you need to analyze your win rates, discover your weaknesses, and assess your game realistically. Beginners can try a data spreadsheet such as Google docs as an excellent free option. There are also many excellent commercial products out there for record keeping.
At present, there are dozens of poker rooms on the internet available for play. Finding the right fit takes research and practice. Just persist and you will soon be on your way to becoming a competent poker player or even a regular winning poker player. Apply these tips by heart and watch your hard work pay off.