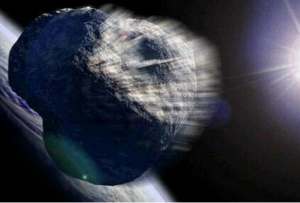 A newly discovered asteroid the size of a city block cruised past Earth well beyond the orbit of the moon Thursday night (June 14), providing a rare treat for scientists and telescope-equipped observers.
The 1,650-foot-wide (500-meter) near-Earth asteroid 2012 LZ1 came within 3.3 million miles (5.3 million kilometers) of our planet during its closest approach at 8 p.m. EDT Thursday (0000 GMT Friday). Since that's about 14 times the distance between the Earth and the moon, the asteroid was never close enough to threaten Earth, or to be seen by most backyard skywatchers.
But folks who stayed inside could get a good look on their computers. The Slooh Space Camera, an online observatory website, streamed live views of 2012 LZ1's flyby that were captured by a telescope in the Canary Islands, off the west coast of Africa.
The asteroid didn't exactly streak off into deep space after sidling up next to us. It's moving somewhat parallel to our planet at the moment, researchers said, meaning that large telescopes should still be able to track it for the next week or so.
Scientists are still taking 2012 LZ1's measure, for the space rock was just discovered this week. Astronomer Rob McNaught and his colleagues detected the asteroid on the night of June 10 and 11 using a telescope at Siding Spring Observatory, in the Australian state of New South Wales. While 2012 LZ1's size and proximity to Earth qualify it as a potentially hazardous asteroid, it doesn't appear to pose much of a threat to our planet anytime soon.
Have you watched the near-Earth asteroid fly-by? Give us your comments and feedback below!
Source: Space
Image: Local 10