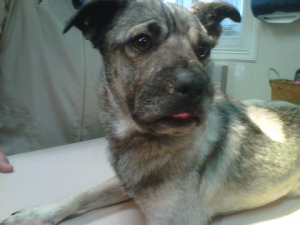 A dog found tortured in Texas earlier this week is recovering from her injuries, and authorities are offering a $35,000 reward for information leading to an arrest in what the Dallas Morning News described as "one of the worst cases of animal cruelty ever reported in the county."
The pug mix—who's been nicknamed Hope by her rescuers—was found Sunday near Weatherford, Texas, dehydrated, with her mouth sealed shut with electrical tape, and five large cuts that took more than 100 stitches to close.
Veterinarians at Bowie Drive Animal Hospital say that Hope, who is estimated to be between 3 and 4 years old, will make a full recovery, though she may need part of her tongue removed. Her mouth had been taped shut with her tongue sticking out, and it was swollen so much she couldn't eat or drink.
"Hope is doing excellent," Rhonda Sears, a veterinary technician at the hospital, told Houston's KHOU-TV. "She just doesn't have a mean bone in her body—the swelling is going down in her muzzle, and there is no doubt in my mind that she'll survive."
What do you think drives people to torture helpless animals such as Hope? Would you be willing to adopt and care for her after she makes a full recovery from her injuries? Share your thoughts with us in the comment box below!
Image: Two Little Cavaliers