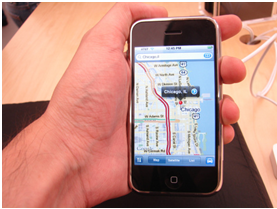 A man claiming he was from New York posted on a chat forum at MacRumors.com that a phone app that he was using allegedly exposed his wife's cheating activities on Saturday night. The first of the series of posts read "Divorcing wife. Thanks iPhone 4S and Find My Friends."
Upon launching the new iOS 5 operating system for the iPhone 4S, Apple had also advertised "Find My Friends," a new app that allows a person to track and meet up with friends. Once they agree, you will be able to see where they are on a map on the screen.
"I got my wife a new 4S and loaded up find my friends without her knowing. She told me she was at her friend's house in the east village," the husband said in another post. "I've had suspicions about her meeting this guy who live uptown. Lo and behold, Find my Friends has her right there."
"I just texted her asking where she was and the dumb b—- said she was on 10th Street!! Thank you Apple, thank you App Store, thank you all. These beautiful treasure trove of screen shots going to play well when I meet her… at the lawyer's office in a few weeks."
"Thankfully, she's the rich one."
It is still not known if the stories posted on MacRumors are really true. When ABC News requested a comment from him, the man did not answer immediately. According to MacRumors, the husband's posts have acquired over 100,000 viewers and more than 200 of them replied with mixed expressions. Some sympathized with him, some were cynical, and some joked about the posts.
Arnold Kim, the editorial director of MacRumors described it as "definitely a busy thread." Although MacRumors made no attempt to verify the man's story, he said everyone in the forum first has to validate their email when they join.
The talked-about app "Find My Friends" utilizes the built-in Global Positioning System of iPhone or iPad to see where your friends are on your screen map. The GPS can be accurate up to a few feet. According to Apple, the said "app is a great way to share your location with people who are important to you." This can be used for easier meet-ups with friends at a crowded place or to ensure that children arrive home safely from school.
In less than an hour, the man had a new post showing a few screen shots of his wife's location on East 65th Street. The husband said, "She said she is in meat packing district which is on 12th street. I DON'T THINK SO. Appreicate [sic] the support. Not my finest hour here but going to get better soon."
The husband's last post on Saturday night was, "what really chaps my a– is not the cheating but the fact that they were probably admiring and laughing over the new phone I BOUGHT. Haha. Well someone about to get the last laugh tonight."
Pocket Lint blog writer Ben Crompton said the new app is "a very powerful tool to have. Bringing with it huge amounts of info to the user as well as delivering plenty of info about the user to others. For some, this power will outdo the user's knowledge of how to use it properly. Still on the up side, maybe Siri will be able to offer some marriage guidance advice."
The newly launched iPhone 4S and iOS 5 have been successful moves for Apple. The company said it had sold over 4 million iPhone 4S in three days and that the iOS 5 now has 25 million users. Technology geeks have been particularly impressed by Siri, the voice recognition intelligent "personal assistant." We have yet to see if Siri really has some marriage counsels to offer.