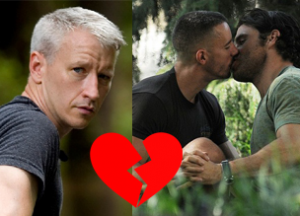 We think there's a lesson to be learned here! If you're going to be photographed making out with someone who is NOT your perfect boyfriend, it's probably BEST if you DON'T take off on vacation with them the next day! Unfortunately, that's something Ben Maisani learned the hard way!
That's right, only a day after the 39-year-old bar owner cheated on Anderson Cooper, the 360 host was devastated to learn the news…while the pair were vacationing together in Croatia! According to a source, who also confirmed that they DO NOT have an open relationship:
"Anderson was with Ben in Croatia when he was told about the photos. They were on a yacht. They flew to Croatia on Aug. 11, one day after the photos were taken. Anderson's upset — who wouldn't be?"
Of course he's upset! He was planning on MARRYING this guy! So AWFUL! Our poor Silver Fox! We imagine he's in a VERY difficult position right now, and sincerely hope that he can rise above all of this with the same dignity and self-respect with which he always conducts himself!
Do you smell a rerun of the KStew-RPatz show here? Or, do you think Anderson Cooper can still forgive Ben Maisani for this public treachery?
Source: Perez Hilton
Image: Next Media Animation