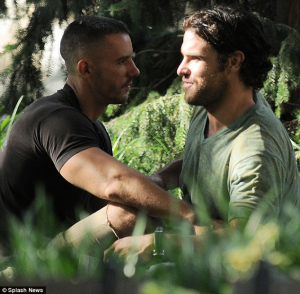 Oh NO! This is just AWFUL! After bravely coming out earlier this summer, Anderson Cooper was said to be considering marriage with his boyfriend Ben Maisani in a ceremony as early as Labor Day, but we think those plans may soon be coming to a screeching halt!
Pictures have surfaced on-line today that show the 39-year-old bar owner CHEATING on the Silver Fox with another man in a New York park! And there is NO room for interpretation! These guys are HARDCORE MAKING OUT! In broad daylight! Just DEVASTATING for poor Anderson! This scene is fast becoming a familiar trend among celebrities, huh? (Hear that, K-Stew?)
Sources suggest these two have been together for close to three years! We can't even imagine the hurt, heartbreak, and betrayal he must be feeling right now! We'll keep you posted as we hear more! Horrible, horrible, indeed! In the meantime, stay strong, Anderson! You're in our thoughts right now!
Could this be a red light for Cooper Anderson's wedding plans with Ben Maisani? Is this a rehashed version of the Robsten cheating scandal? Feel free to voice out your opinions in the comment box below!
Source: Perez Hilton
Image: Because I Am Fabulous