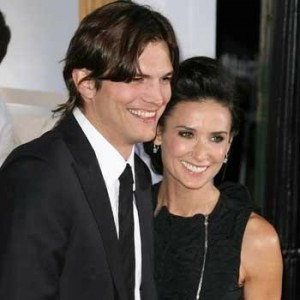 Despite their long and supposedly meaningful embrace at their Rabbi's 40th birthday party on a few days ago, Demi Moore and Ashton Kutcher will not rekindle the flames of their love, according to sources.
They were publicly cordial with each other at the party, according to one eyewitness: "They were friendly… Ashton got up at one point and grabbed coffee in a paper cup for Demi, and they smiled a few times during the program at each other. They seemed to get along and feel comfortable."
According to another source close to Demi's family, friendly interaction is as far as things will go between the exes: "The family is in a pretty good place right now, but Ashton and Demi won't go back to being what they were… Ashton will always be a part of their lives, especially with regard to the girls and how close he is with them."
Sure, sure, sure. We find it hard to believe that, with all of their history, these two can keep the physicality out of their friendship forever. And if they do start hooking up again, we doubt they can keep it no strings attached, LOLz!!
Do you think there is a remote possibility that Ashton and Demi will start hooking up together? Tell us what you think!
Source: Perez Hilton
Image: Radar Online