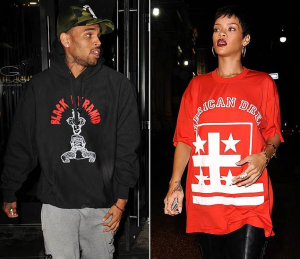 No, not in THAT way! There were no cuts and bruises involved! Chris Brown and Rihanna are barely trying to hide it anymore — getting up close and personal at a NYC nightclub late Monday night … then carousing at Rihanna's hotel for hours.
Chris and Rihanna hit up Griffin nightclub in the Meatpacking District — we're told they arrived 5 minutes apart, and quickly ended up at the same table. Sources inside the club say the two were all over each other, and even disappeared together in a bathroom for 20 minutes. What should we make out of these "coincidences?"
People inside the club say the duo were kissing and hugging out in the open. The two left the club separately — but hours later, Chris was spotted leaving the Gansevoort Hotel, where Rihanna was staying.
By the way, Tuesday afternoon, Chris' clueless GF Karrueche tweeted that Chris sent her roses, a teddy bear and chocolates — maybe a lame, "I'm sorry." So we gotta ask …
How much longer can they hold out until they admit to the world that they're finally back together? How much public canoodling and kissing can Karrueche take before she finally decides to drop CB permanently? Tell us what you think of this budding reunion!
Source: TMZ
Image: NY Daily News