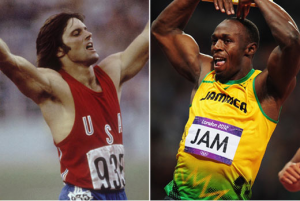 Usain Bolt is OUT OF HIS MIND … at least according to Bruce Jenner … who doesn't think the Jamaican sprinter was living in reality when he called himself the greatest athlete of all time.
Jenner — who took home the gold in the decathlon in the 1976 Olympics — was leaving LAX this weekend when we asked him about the declaration of greatness Bolt made about himself after dominating at the Olympics last week.
"He's the best sprinter," Jenner said … adding, "He can't pole vault, he can't throw anything … that's an athlete." And it would take only Bruce Jenner the champ decathlete to be able to say that.
Jenner made it clear … he believes decathletes rank the highest when deciding "most athletic" … and when asked if Bolt would be able to compete in his sport, Bruce didn't hold back …"He would be terrible."
We don't mean to spark a sports war here, but we reaaally gotta ask — Do you agree with Bruce Jenner that Usain Bolt would be a terrible athlete in decathlon? OR do you think it's Jenner that's out of his mind for calling out Bolt? Feel free to share your thoughts and opinions with us via the comment box below!
Source: TMZ
Image: Zap 2 It