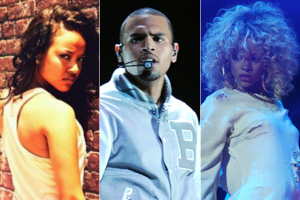 Chris Brown says he has officially BROKEN UP with his girlfriend Karrueche Tran …  explaining, "I don't want to see her hurt over my friendship with Rihanna."
Brown just made the announcement … saying, "I don't want to see her hurt over my friendship with Rihanna. I have decided to be single to focus on my career. I love Karrueche very much but I don't want to see her hurt over my friendship with Rihanna. I'd rather be single allowing us to both be happy in our lives."
The announcement comes after Brown and Rihanna were spotted together at the Jay Z concert in Brooklyn last night. The two had been hanging around each other A LOT lately … and did some hardcore flirting at the MTV VMAs. Could those series of sightings and public PDAs have been a prelude to this?
Karrueche had posted a cryptic tweet last night reading, "Bye baby." Now it makes sense. But why, oh, why did this come just now? Baby, love can be a terrible thing sometimes!
Are you in favor of Chris Brown and Rihanna getting back together? OR, should all THREE of them stay single for a while? Feel free to holler at us about this hottest love triangle issue!
Source: TMZ
Image: Pop Crush