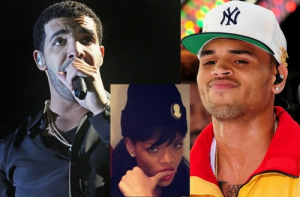 And everyone's betting on it allllll being over our gurl Rihanna! Wednesday night, both Chris Brown and Drake's entourages threw down at WIP nightclub, leaving five people injured from the fight.
Fists weren't the only weapons involved, either! We hear they were throwin' bottles! (Ugh… seriously??). Apparently this happened in the early, early hours of the morning as the NYPD responded to calls between 4 and 5am. Unfortunately, neither Breezy nor Drake were on the scene once they arrived.
And since the injuries weren't THAT monumental (bruises, cuts), no arrests were made. But minor or not, violence is NOT cool! Even if you've inflicted it on someone else in the past (cough cough Chris), we're never total fans of seeing it happen… to ANYONE!
Leave it to Breezy to post the pic of his wound, though. He showed the world his chinny chin-chin boo-boo with the caption: "How u party wit rich n**** that hate? Lol… Throwing bottles like girls? #shameonya!"
Hmmm…. That caption makes it sound like Drake's camp started the drama, but then again… we wouldn't be surprised if Breezy just doesn't see the fault in his own entourage. It takes two to tango!! …or to act like foolish school boys. Either way.
Who do you think started the fight? And do you think Rihanna is involved in this issue? Share your thoughts with us!
Source: Perez Hilton
Image: Bitten and Bound