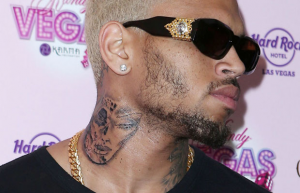 Days after his scandalous smooch with Rihanna at the 2012 VMAs, we discovered a few pics that might explain Chris Brown's sudden desire to kiss his ex-gal.
CB found some fresh neck ink and it's way more cray than RiRi's recent Goddess of the Under-Boob! HE TATTOOED A WOMAN'S FACE ON HIS NECK! And, upon closer inspection, it looks a lot like a familiar Barbadian bombshell! We could only be more surprised if it were a portrait of Drake, LOLz!
Sources close to Chris deny any similarities his new ink has to RiRi. They swear the top-selling R&B artist merely tattooed the most visible part of his body with the face of some "random woman." Hmmm. That truth is harder to swallow than six slices of birthday cakecakecakecake!!
Ch-ch-check out the eerie similarities for yourself! Tell us why U Breezy would engrave a picture of the ex-girlfriend he physically abused into his neck? These ex-lovers really love to court controversy, don't they?
Do you think it's really Rihanna's battered face that's tattoed on Chris Brown's neck? And what could be the reason for that? It's quite bizarre actually, so feel free to send us your speculations via the comment box below!
Source: Perez Hilton
Image: Rukkle