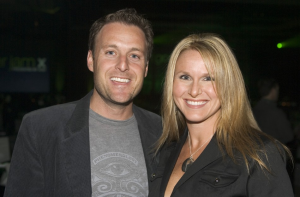 The Bachelor host Chris Harrison and his wife of 18 years, Gwen, are announcing their separation "after much heartfelt consideration," the couple tells PEOPLE exclusively.
"Though we have made this incredibly difficult decision to separate, our love and mutual respect remain, and we look forward to sharing in the lives of our wonderful children," they say in a joint statement Thursday. Basing on this statement, it is quite unclear what the root cause of their separation is. But whatever it is, it seems like they are coming into good terms in this situation. Good for them!
The couple live 35 miles from Hollywood with their kids Joshua, 9, and Taylor, 7. Harrison, 40, coaches both kids' soccer teams, and is "an amazing father," Gwen told PEOPLE in 2010. "He's very loving and involved." Looks like they could have made a wonderful family together. Too bad that some good things do come to an end.
Harrison hosts the new season of The Bachelorette, which premieres May 14 on ABC.
Do you think Chris Harrison should also join The Bachelor after separation with his wife is final? Give us a holler below if you would be vying for him!
Source: People
Image: International Business Times