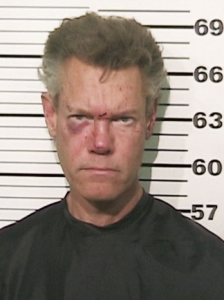 Country music star Randy Travis, who pleaded no contest to public intoxication following the Super Bowl in February, was arrested again Tuesday after being found naked, smelling apparently of alcohol and lying on a remote stretch of roadway in northern Texas just before midnight, authorities said.
He was arrested and charged with driving while intoxicated and felony retaliation, after allegedly threatening to fatally shoot highway patrol troopers who responded to a concerned caller who notified authorities of "a man lying in the roadway" Tuesday. The DWI offense is a misdemeanor, authorities said. Travis, 53, allegedly refused to take a blood and breath test, and was later forced to submit to a judge's order for a blood specimen taken at a nearby hospital, Wheeler said.
"He was given a paper suit, which is a jail uniform made out of paper," Sgt. Rickey Wheeler of the Grayson County Sheriff's Office told CNN.
Travis was released from Grayson County jail after an acquaintance posted his $21,500 bail in cash at 10:40 a.m. Wednesday, Wheeler said. It's not clear whether Travis was injured in the accident, though his mug shot revealed a bruised right eye and several abrasions on his face.
In February, Travis was arrested for public intoxication while sitting in his car in front of a church in Sanger, Texas. Public intoxication, a class C violation of the municipal code, is an offense typically disposed of by the Sanger courts with a fine and a 90-day probation.
Do you think Randy Travis' intoxication problems is getting serious? Should he start getting professional help to curb this habit?
Source: CNN
Image: Hollywood Reporter