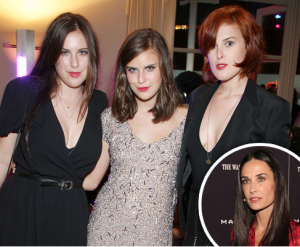 As we previously reported, Demi Moore's daughters — Rumer, Scout and Tallulah — have pretty much cut off all contact with their mother after a series of fights. Now, it sounds like the girls are thinking about cutting off their own mother even more — by getting a RESTRAINING order against her! A source spilled:
"Demi has been calling them incessantly and emailing them, leaving them tearful messages and begging them to call her and the girls are sick of it. It is a really drastic measure and not something they are considering lightly but they just feel like they want some peace and quiet."
However, it sounds like it'll take a whole lot more than phone calls to slap their mom with a restraining order! A legal expert stated:
"You can't get a restraining order against your mom when she's trying to call you. If that were the case, many, many more people would all be in court!"
As for Demi, it sounds like she isn't taking the separation from her kids too well. Moore is said to be "absolutely devastated" and distraught over the whole situation. We don't blame her! We would be, too. This is such an unfortunate circumstance all around.
Do you think Demi Moore is just being a little "too needy" for the three girls? OR are her daughters only too apathetic to care about their mom? Feel free to comment on this issue!
Source: Perez Hilton
Image: Gossip on This