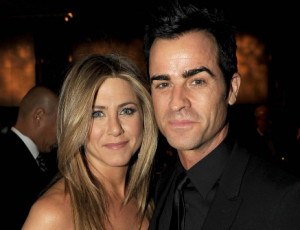 Apparently Justin Theroux did propose during his and Jennifer Aniston's two-week European vacation! BUT SHE SAID NO!?!
That's what OK! is saying! According to them, Jennifer knew it would happen toward the end of the getaway, but turned him down because:
"She feels like she only got the proposal because she pushed for it. She doesn't want a guy marrying her because he feels some sort of pressure."
Well, according to the source, Jen was expecting it to happen at Parisian restaurant Le Jules Vern, but it didn't… The insider continues explaining:
"When it didn't happen Jen got upset, so they started bickering. They fought about his commitment issues and she brought up a bunch of stuff. He got defensive and stormed out, it was a big mess. They made up a few hours later, but it still ruined the mood of everything."
Later on, Justin felt like a fool and decided to just go for it:
"Justin totally shocked her and proposed. She told him she loves him and wants to marry him, but she couldn't say yes. She wants everything to feel right, not rushed. She told him she feels like he's not ready, but she is willing to wait for him."
Do you believe this story about Justin's proposal to Jen? And had things gone her way, do you think she could have said 'Yes'?
Source: Perez Hilton
Image: Celebrity Oz