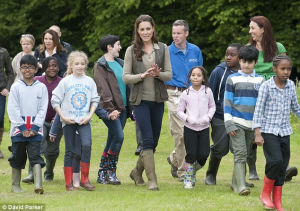 On Sunday, the Duchess of Cambridge joined inner-city schoolchildren on a camping trip in Kent. The group of 28 eight and nine-year-olds built tents and made campfires on a weekend designed to help develop their confidence and teamwork skills. Kate, 30, (who also spent the day Friday with local children) joined some of the campers under their makeshift shelters and on a ramble through the woods.
And, of course, she answered their questions about life as a princess. "It's very busy and great fun but I am very well looked after," Kate told one child.
"She said she got to visit lots of countries but hadn't seen as many as William," Tigerlily Smith, 8, told reporters of her conversation with Kate. As for married life, "She said William was very sweet and kind and spoiled her," Smith revealed.
The students, from ARK's King Solomon Academy Primary in north Westminster, London, went camping at Widehorizons' Margaret McMillan House in Wrotham, Kent. The Foundation of Princes William and Harry (of which Kate is now a patron) supports ARK, a U.K. education charity.
The dressed-down duchess (who donned Le Chameau boots and jeans), was a hit with the children, one of whom was eager to show off his manners. ARK spokesperson Lesley Smith said the campers enjoyed themselves tremendously on their trip.
What can you say about the Duchess of Cambridge going camping with schoolchildren (not to mention, her chic outfit)? Share your thoughts and opinions with us!
Source: People
Image: Daily Celeb