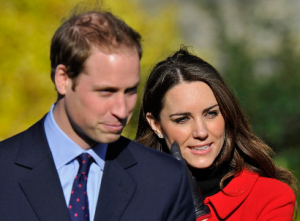 The British royals are trying to DOMINATE Asia?! Dastardly! Nah, obvi Prince William and wonderful wifey Kate Middleton do NOT have plans for global domination (hopefully!), but they WILL be taking a trip around Asia and the Pacific Isles this September, in honor of Queen Elizabeth II's Diamond Jubilee Tour!
The aristocratic pair will spend two days in Singapore, then hop over to Malaysia to explore Kuala Lumpur, Sabah, and Borneo, and will conclude their adventure with a tryst in the Solomon Islands and Tuvalu. The duo will be repping the British government.
This is the Duke and Duchess of Cambridge's schedule for the Asian tour:
September 11: Singapore
September 13: Malaysia (Kuala Lumpur; Borneo)
September 16: The Solomon Islands
September 18: Tuvalu
September 19: Depart
Aw sounds like romantical-political occasion! We wonder, will the lovers have any time for a royal romp in the sack? Some sexy time in Tuvalu perhaps? They've gotta keep up that physical adoration, or they'll be in danger of turning all stiff upper-lippy! A true life fairy tale… it's magical to the maximus!
Do you think the famous royal couple will have time for a romantic honeymoon during their trip to Asia? Do you think Prince William and Duchess Kate will plan to have a baby after this busy schedule?
Source: Perez Hilton
Image: Euro News