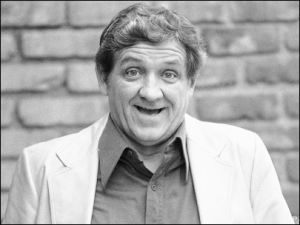 George Lindsey, who spent nearly 30 years as the grinning Goober on "The Andy Griffith Show" and "Hee Haw," has died. He was 83.
A press release from Marshall-Donnelly-Combs Funeral Home in Nashville said Lindsay died early Sunday morning after a brief illness. Funeral arrangements were still being made.
Lindsey was the beanie-wearing Goober on "The Andy Griffith Show" from 1964 to 1968 and its successor, "Mayberry RFD," from 1968 to 1971. He played the same jovial character — a service station attendant — on "Hee Haw" from 1971 until it went out of production in 1993. He joined "The Andy Griffith Show" in 1964 when Jim Nabors, portraying Gomer Pyle, left the program. Goober Pyle, who had been mentioned on the show as Gomer's cousin, thus replaced him.
Although he was best known as Goober, Lindsey had other roles during a long TV career. Earlier, he often was a "heavy" and once shot Matt Dillon on "Gunsmoke." His other TV credits included roles on "M(asterisk)A(asterisk)S(asterisk)H," "The Wonderful World of Disney," "CHIPs," "The Glen Campbell Goodtime Hour," "The Real McCoys," "Rifleman," "The Alfred Hitchcock Hour," "Twilight Zone" and "Love American Style."
He had movie roles, too, appearing in "Cannonball Run II" and "Take This Job and Shove It." His voice was used in animated Walt Disney features including "The Aristocats," "The Rescuers" and "Robin Hood."
Lindsey devoted much of his spare time to raising funds for the Alabama Special Olympics. For 17 years, he sponsored a celebrity golf tournament in Montgomery, Ala., that raised money for the mentally disabled. The University of North Alabama awarded him an honorary doctorate in 1992, and he was affectionately called "Doctor Goober" by acquaintances after that.
What are your fondest memories of George Lindsey? Share your thoughts with us!
Source: Yahoo News
Image: KLEW TV