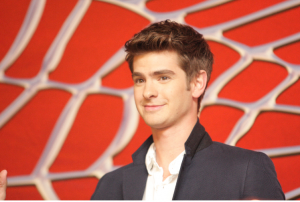 The Amazing Spider-Man" will be swinging back into movie theaters this summer with a new director at the helm — the appropriately named Marc Webb ("(500) Days of Summer") — and a new leading man behind the mask.  But how did Andrew Garfield, a 28-year-old acclaimed dramatic actor from England best known for "The Social Network," score the role of a teenager from Queens who does whatever a spider can?
Matt McDaniel: "For you, what was the moment when you just knew that Andrew was the right guy to play Peter Parker?"
Marc Webb:   "…This sounds ridiculous, but it's true.  We were doing a scene that's not in the movie, where he was eating a cheeseburger and telling Gwen to like calm down or to — trying to put her at ease, while he is eating food.  And the way he ate this food — it was such a dumb task — such a dumb independent activity that you give to an actor to do, and he did it. [Laughs] …there's something in the way he embodied and committed to that really tiny minutia — I just hadn't seen before. I can't explain exactly what I felt like it worked, but that was it… He sort of checked all the boxes…"
MM: "Was that chemistry between Andrew and Emma there from the very beginning?"
MW: "Yeah, we screen tested them together… and he took a minute for him to get back up to speed with her because she was so funny. And then they really brought out really great parts of the other's performance. Of course, it was there, and that's why we cast that dynamic. It was really great to watch it on screen."
Let's ask the audience — what are your expectations for the new Spiderman movie? Feel free to voice out your opinions below!
Source: Yahoo News
Image: Collider