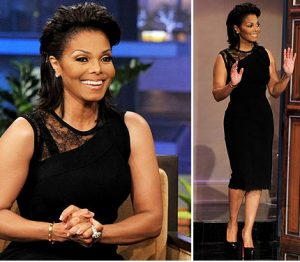 After years of yo-yo dieting, Janet Jackson is finally at the size she wants to be. Just don't ask her how many pounds she's dropped.
"I don't know how much weight I've lost, only because I stay away from the scale," Jackson told PEOPLE at Marco Glavianos "Supermodels" exhibit in New York recently. "I don't think [stepping on the scale] is healthy. You're setting yourself up to fail and women's bodies fluctuate every month – certain time of the month in particular – we bloat a great deal," she says.
This time around, Jackson – who turns 46 on Wednesday – is battling the bulge with NutriSystem. She became the company's spokeswoman in December. The singer adds that she isn't depriving herself of her favorite foods – whether they're on the plan or not. Still, it's not just watching what she eats that helps her maintain. "If I'm getting ready for something like a tour, I work out six days a week. I like to switch it up. I may go for a run or bike," she says.
As for whether she's reached her goals, Jackson says, "I'm really happy with the way that I feel at the moment. I feel very good, and it's been a long time since I've felt this good."
Do you agree with Janet Jackson's weight loss scheme? Share your healthy weight loss stories with us!
Source: People
Image: Hollywood Treatment