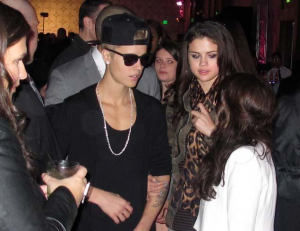 So much back and forth with these two! It's like the most frustrating game of romance yo-yo… and we're getting tangled in the string!
'Calmed down enough'
At the end of last week, it seemed that all the sh*t flying between young lovers Justin Bieber and Selena Gomez had finally settled and all was right in the world of Jelena… But THEN this weekend, we hear sweet Selenita totally LOST it during a dinner date with Da Beebz and stormed off!
NOW — perhaps because of a soothing therapy sesh with her bestie Taylor Swift — we hear that last night Selena had apparently calmed down enough to attend the AMAs after party as Justin's date!
'Taking it slow'
BUT, Selenita did NOT attend the actual award show in support of her triumphant boy…friend, and according to a new report, the pair are totally NOT back together!! GRRRRRRoan.
Ah well, at least it seems they are trying to work things out, and we guess it's a good thing the pair are taking it slow, ironing out all the kinks with care. Young love is beautiful thing, but people also need time to grow and figure out what they want from life, and perhaps now is the best time for Selena and Justin to do just that!
Do you think Justin Bieber and Selena Gomez will be able to work things out and be back together again? OR should they just quit and move on? Feel free to shower us with your thoughts and opinions!
Source: Perez Hilton
Image: NY Daily News